I'm Pretty Damned Lucky: July, 2018
You might not have heard I hurt my back a month and some change ago. Not like, "oh, there's a twinge. Looks like I have to skip bowling tonight" and more like, "oh my god, I can't stand, I can't move, I want to cry and please, please don't let me be stuck like this forever. Please, please, please." I have a herniated or ruptured L5 disc. I won't know until after 7-8 weeks of physical therapy.
It was not good. But there's a happy ending in that there's been a ton of improvement and I can now walk and stand in one place without weeping. But I didn't tell a ton of people and I certainly didn't advertise it. Why? Because honestly, I'm lucky as hell.
I have medical insurance through my wife and while we're not rich, we don't have any money problems (beyond house debt, we have no debt at all). I didn't have to work…because I became a stay-at-home dad/writer the same week as my injury. We have four parents in the area who came over non-stop to help. And my wife was on her last month of maternity leave, so while I hung out with Finn, she did all the chores. Like, add up all the luck there. Really: I'm good.
I bring this up because two months ago, my buddy Brian P. called out my last writing post as privileged. And while I bristled at the public calling out, he wasn't wrong. We had a nice conversation about it and after my irritation faded, I had to recognize that I am insanely privileged and always have been. I grew up in a rich country, with solidly middle class, loving parents who weren't above calling in favors and/or complaining a little to get me into the right schools. They paid 90% of my college tuition and subsidized me through two years of Americorps. And then when I was ready for the real world, I lucked into a state gig with state benefits and free tuition. All so my wife, who's also middle class, could willingly and enthusiastically support my writing career.
I'm a lucky, privileged dude. And it behooves me to acknowledge this. For the past month, every time I've held my son, I'm reminded of just how much of that privilege has permeated my life. I'm grateful, of course. But I also need to be conscious of everything that started right and continued to go right for me. And while acknowledging my privilege is a good first step, there's a lot more to be done, a lot to pay forward. I will do better. I have to.
Writing news:
My Barrelhouse column continues. This one about Archie Bunker was catharsis.
More poems dropped at the wonderful Longleaf Review. I will always love David Attenborough.
I took a great online flash fiction writing workshop with Kathy Fish. From that, I got an acceptance at Pidegonholes (December) AND Necessary Fiction, a journal I've wanted to be published by since I started writing seriously. I couldn't be more thrilled.
The newest Mason Jar book, I Am Not Famous Anymore: Poems After Shia LaBeouf by Erin Dorney is officially available. Think about buying one. It's very good. Here's a pic of us at the release!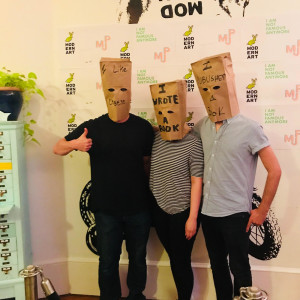 Books to look out for:
This Darkness Got to Give by Dave Housley
The Glass Eye by Jeannie Vanasco
---