Top Ten Lists are cool. This is not a Top Ten List: January, 2018
January 1, 2018
I like lists. I've always liked lists. There's a pleasure in categorizing life and tastes and loves. Putting order to the brain brings calm. It brings Zen. It brings ocean waves and gentle breezes that waft, like, lavender or something.
During a ten-hour train voyage, I put together my top 100 movie list. I used an intricate 5-scale ranking system and it was awesome. I rank my favorite video games still, typically during work-trainings that numb my mind. My buddies still argue top ten lists.
It's the end of the year and top ten lists (or top 13 or top 24 or 92.6) inundate us. I thought about writing one, but I'm not. Not because I don't believe in ranking things (I do) and not because I'm a contrarian (I'm not) but because I don't want to. I don't really give a fuck.
I have a bunch of stuff happening. It's mostly good, not entirely writing related. But it's all busy and I'm busy and I don't have the brain space right now to write a list. I'm not bored, I'm not excited. I'm just…just. Just is enough.
Instead of a top ten list, I'm going to do exactly what I've been doing. Here's what I've been up to. Here's what I'm excited about. I hope you care. I care.
A new story from Barrelhouse came out on 12/20. It's about a show I dislike, but a character I've always thought interesting: Lisa Turtle from Saved by the Bell.
I interviewed the management of a show venue I've been attending since the late 90s. I love the Ottobar.
This neat little zine–God Dammit Kyle MacLachlan–I contributed to was reviewed . Thanks for doing that Women Write About Comics.
The second writing retreat I helped coordinate (with Writers & Words and Ink Press Productions) went off splendidly. 4 days in the woods with friends and colleagues. I wrote poems about Lucy Liu and hung out by the fireplace. There was some napping. Some board games. Those are good things. Below is me in front of a fire and me with the founder of W&W, Michelle Junot.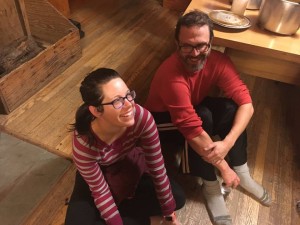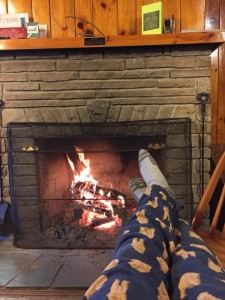 I'm still writing, I still have stuff in the works. It's wintertime and vacation time and I'm chilling. Welcome 2018.
Stuff I'm reading:
The New Mutants complete series by Various
Beloved by Toni Morrison
Stuff I'm watching that's badass and basically art:
Avatar: The Last Airbender
Legion
---