Apple Bottom Blog. November 1, 2017
Just like everyone else, I get songs stuck in my head a lot. I've had this one in there for the past week. I'm not exactly sad about this, as it's kind of a banger.
Importantly, it's gotten me thinking about the past. This song is embedded in my early 20s, in a really pivotal period of my life, when I joined Americorps, when I traveled around Europe, early relationships. It was a time when I was really adrift. I knew I wanted to do something, but i had no idea what. I had no "real" work experience, I had no internships, I didn't have job goals. I certainly had no idea I would be a writer. And I heard "Apple Bottom Jeans" like a million times during this time. Flo Rida and T-Pain knew what they wanted to do.
Eventually, I figured out my path. It took time, luck, some nepotism, faith, hard work. I'm happy with where I am, stoked really. I love writing, I love my goals. I get distracted here and there, I have slow weeks and months, but it's seriously all gravy. Get low, y'all.
In serendipity, I gave a reading at York College of Pennsylvania, my first alma mater. I had the dubious honor of having a 2.5 GPA in English. But they (Travis Kurowski) invited me for a class visit and for a reading. It was super great: quite a few students and an old professor of mine came out. They heard me read about wanting Taye Diggs to fist me and about evil David Attenborough. Plus there were dope posters.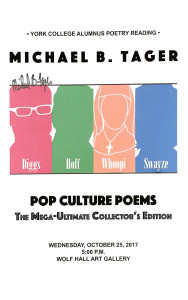 It's been a slow month, publication-wise. Which I'm fine with, really. I've been concentrating on finishing draft 2.1 of my novel, which I did. Super exciting. Once it's copy-edited, it's ready to go out into the world. I'm not expecting success right away, but it's all about taking the next step.
Here's my recent publications! As I said, light month. I have an interview coming, but I think it'll be in German. Not that I wrote it in German; it's being translated as we speak. I'll post it this month or next. WE'LL SEE!
In editorial news: I've stepped away from another responsibility–as I talked about in my last update, it's something I have to do. In this case, I'm not longer working with Writers & Words, the reading series I helped create and have been running for the past 3 years. It's been awesome, but it's more work than it seems and I'm burnt out on it. I'm still helping with larger-picture stuff (like the upcoming retreat; apply for future events!), but day-to-day, I'm out. We're all still homies, though. I waited until the team was ready for me to dip out. I'm not into bailing.
On the other end of the spectrum, Mason Jar Press is booming. The book release for our newest book/author is this upcoming Sunday, November 4. The Bong-Ripping Brides of Count Drogado, by Dave K, will premiere at the Ottobar! There will be puppets, magic, poetry and, of course, the book itself. Come hear Dave read, buy a book, drink signature drinks. The Ottobar is a rad place that supports the arts.
Another of our authors, Michelle Junot, was the featured reader at the Barrelhouse conference Conversations and Connections on October 21 in Pittsburgh. She was rad, knocked it out of the park, made us proud. We (Ian and I, as well our collaborator celeste doaks) went up there and paneled some workshops, speed-dated with writers and generally made merry. Here's proof (not pictured: Steven Leyva from Little Patuxent Review, who joined us in panels and merriment).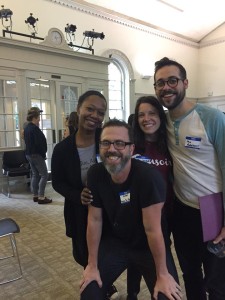 Good people, good times.
Lastly, in MJP news: we've signed some new authors from our open submissions. We had 250 manuscripts to choose from and we were legit blown away with the quality. We'll be announcing them in the coming days and weeks, because we have a new social media person too! So much happening. Lizzie Travis is a dope addition and will actually start working today. So, y'all will see her post. Follow her/us on Twitter and Instagram (probably Facebook too, if we ever get around to making a page and handing her the reins).
Thanks for reading, everyone!
Books to look out for:
The Young Widower's Handbook by Tom McAllister
The Bong-Ripping Brides of Count Drogado by Dave K
---