Oh hello!
It's been awhile hasn't it?  I used to write these every month, but I haven't in months and months. At first I got down on myself for neglecting it. After all, it's important, isn't it?
Well, yeah, it might be. But so is everything I'm doing, in life, work and my writing and art. And everything requires a little bit of effort and if I do everything, then suddenly I have no art left and maybe I haven't done a task that's more important. Like writing itself. Which I wasn't doing. So I took a hiatus from this and from submitting and from doing reviews and from almost
everything except:
writing
my press
fun, short-term projects
This was a needed reset for me. I've been writing a lot (over 1 story a month). Mason Jar Press is going great. Fun, short-term projects have been getting completed. And I don't feel stressed all of the time, or guilty about not doing "stuff." If it's non-essential, I'll do it when I feel like it and that's that, you know? This is one of the times when I'm doing it. Is it because I have something to promote? Yes (more on that in a minute), but not entirely. I've also wanted to write one for awhile, to say hello, to say I'm here, to say I'm pretty happy with how my art is going.
Here's some stuff that's been going on:
This poem about John Ritter landed in Breadcrumbs
Over at Fear No Lit, I created a new author interview series, Release the Book!
I wrote a short story at the Barrelhouse Writing Camp back in August that Cotton Xenomorph thought was good
My regular clients at the Goethe Institut commissioned an article about the Berlin Wall via movies. I quite like how it turned out
Atticus Review published my book review of Danny Caine/Tara Wray's El Dorado Freddy's
Oh yeah, my self-pubbed chapbook is dropping soon. This is also via Barrelhouse, in this case my Spec Script series. With help from my friends who have skills I don't*, I have collected my favorite stories, cleaned them up and made them a book. I'm thrilled about it. And I self-pubbed it because it was fun, I wanted to do something new from start-to-finish and, like, whynot! I will be selling this soon, so if you're interested, please stay tuned!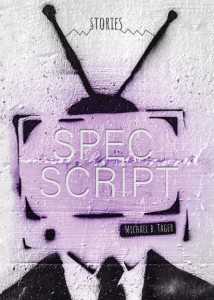 Thanks for listening, everyone. I'm really digging this new focus on what's really important, especially during this weird, dark time.
Media I'm currently obsessed with:
She-Ra and the Princesses of Power (Netflix series)
Final Fantasy XII (video game)
Saga: Volume 3 (comic)
*Amanda Ponder (cover)
*Jeff Hopkins (graphics)
*Pantea Amin (general suggestions)
*Mandy May (final touches)
---