The Gorgeous Artist Races. July 21, 2017
My update is a week and a half early. I'm not really an early kind of guy because I used to be the dude who didn't understand that a party starting at 9:00 pm didn't actually begin until at least 10:30. I was the dude who would show up at 9:00 on the dot and be puzzled why the hosts were kind of put out at me. This lasted until I was in my early twenties. Even now, I'll be ready to go to an event and force myself to wait a few extra minutes. It's a problem.
I'm also not a late dude because my father, um, didn't abide by lateness. He wasn't and isn't a particularly strict man in nearly any way, but God help us if we made him late. Yeah, me and my brother? We're right on time all of the time.
But not this month! This month I'm deliberately a week and a half early. But why?
Why, you ask, hypothetical reading audience? Because Tracy Dimond and I are going to race. In the pool. Swimming-like. She and I are both writers and we both swam in college (I swam for the powerhouse in swimming, York College of PA. She ran for some dippy school called "Rutgers University." Whatever.) Tracy and I have been known to talk swimming and writing and athletics and the arts in the past. It's kind of "our thing" even if neither of us are serious swimmers now.
But what does this have to do with anything? Well, we want YOU to bet on us. Who do you got? Who will triumph in the pool? Who is a better flower in this world, more full of beauty and kindness? Is it me? Than bet on me! Is it Tracy? Bet on her (don't bet on her). And by bet, we mean donate your monies to Writers in Baltimore Schools. It's an incredibly dope organization that " empowers the voices of Baltimore City students through in-school, after-school, and summer programming that builds skills in literacy and communication while creating a community of support for young writers." There's also a summer camp coming up that's pretty cool.
If I lose, I'll match all Tracy bets. If I win, Tracy will match my bets. And all money to Writers in Baltimore Schools. It's probably tax-deductible, too. EVERYONE WINS!
Here's some links:  https://www.generosity.com/education-fundraising/baltimore-young-writers-summer-studio-2017–2
When you donate, please comment on whatever social media platform you want. We'll add the names below and their bets (and trash talk, if applicable. Please include trash talk.) We will include videos and pictures. I may wear a speedo. Tracy may cry. We'll see. You may watch the event live, here. Live Friday, 630 AM. 
**Update**
The Gorgeous Artist got smote, mightily. This was not unexpected. Sometimes Goliath beats David (probably a lot). Tracy is crazy-talented and dedicated, so good job, I guess. BUT! We, together, raised like $350 for the charity. THANKS FOR BEING AMAZING!
BETS ON THE GORGEOUS ARTIST!
"someone has to bet on Michael": $15
Karen Strother (we think): $25
Chris Warman: $50 + Employer matching!
Sylvia Fischbach-Braden: $25
In more Michael Tager-centric news, I've had a couple pieces come out since last we talked. The good people at Queen Mob's Teahouse were kind enough to put out my very-NSFW poems, "The X-Men, Fucking. Poems." They're um, graphic. So read at your own peril.
Besides them, Cartridge Lit pubbed my newest pieces on Sonic the Hedgehog and Castlevania.
Also, LitPub put out my review on a wonderful book by Paula Bomer, Mystery and Mortality. It's heavy nonfiction but well worth reading. Check it out!
BMoreArt will be publishing a new interview with the folks at Hey You, Come Back. I'll link when it gets here.
Nathan Leslie of the Reston Reading Series had me down to Virginia to read with some heavyweights. Thanks Nathan! He got to see me be cranky because of lack of food afterwards. EEP! Here's a picture of when I wasn't cranky: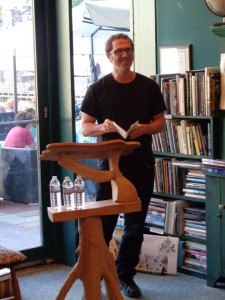 And speaking of readings, the wonderful Mandy May and Mary Adelle have invited me to read in support of their journal, NASTY, of which I am a contributor. It will be on August 15 at  Dublin Roasters Coffee. I hope to see you all out there (or at least at their reading on 7/27 at The Room).
I'll also be representing Mason Jar Press at OutWrite on August 5 with Stephen Zerance and Saida Agostini. Rea Harris will be manning the booth with me. Come say hello.
And I'll be at Writers & Words on August 8 helping Natalie Ko, Claire Dorsey, Derrick Cullen and Aditya Desai be more amazing than they already are.
Books to look out for:
the long way to a small angry planet by Becky Chambers
Massive Cleansing Fire by Dave Housley
---