Taking too much: October 1, 2017
It's been a slow couple months. Part of that is due to the nature of the Summer, part is due to my own work flow. I've been concentrating on a lot of work, trying to make everything I do quality, and letting certain aspects slip. This is a problem, because if I'm doing lots of stuff, but all of it just-ok, I'm probably doing too much. And I need to back it up. I'd rather do 5 projects super well than 10 just-ok. Quality and quantity. It's a thing.
This has always been my problem. I'm interested in a lot and thus, have gotten into a lot. I like sports and books and video games and writing and dancing and cooking and traveling and music and this and that and the other. I don't like skiing. Skiing is stupid. But other that hating on skiing (which is stupid), I like it all. So I've always been a jack-of-all-trades, master-of-none kind of dude. I'm a good swimmer, not a great one. I'm good at chess, but anyone who's reallystudied whips my ass. I made my peace with this, because it's not a bad thing to be good at a lot. Makes me well-rounded.
This has permeated my writing. Instead of specializing in a form, or a genre, I write in many. I write genre fiction and literary fiction. I do creative non-fiction, but also traditional interviews. I write poems. I publish and I edit. There's a lot going on.
I'm good with this. But the problem is that I tend to take on too much, because all of it sounds amazing. And when I started my novel, this wasn't getting in my way. Until it did. Because suddenly I had deadlines everywhere. I had to get this reading set up, organize this retreat, edit these articles, read these submissions. And I found my writing took a hit with all of this.
But even within my writing, I had deadlines and think pieces and collaborations. All of which were important and I loved them, but they obstructed my end goal: my fiction, my novel, writing new stories. My novel stretched on for 7 months before I completed the first draft on 12/31/16 and the first revision stretched on and on, until yesterday.
I'm not used to taking so long. So I've made some decisions. I'm pulling back on my responsibilities, slowly, with care. I ended my Retrogamer series at Cartridge Lit this past month. I talked to my editors, explained the situation and essentially gave my notice. I wrote three more essays before I was finished. I like them. But I was ready.
I stopped writing book reviews also. I had commited to doing one for a magazine and would have gotten paid. But the book sat on my bed and I didn't want to read it because i knew I'd have to write about it. And i'm good with writing them, I've written dozens. So I emailed the editor, said I wasn't going to do it and put it aside.
There's other things I'm dropping out of in the next few months. I've talked with my partners and they know it's coming. It will be official. But it's like when I was 10 and had finished taking my first round of piano lessons. I liked piano and my teacher said I had some talent. But I knew that I didn't have enough talent OR enough interest to keep on going. So I made one of the most mature decisions I ever made and said no, I wasn't going to continue. I'm channeling that kid.
But that's in the future. In the meantime, here's some stuff I've done!
Cartridge Lit is a great journal and I loved working with them. I've parted from them amicably, because they're great! Work with them! Here's my final essays on Fantasy Sports and Fallout 2.
BMoreArt published a new interview with the folks at Hey You, Come Back.
I wrote a short fanfiction piece about Kyle MacLachlan for Maureen Sullivan's zine. They'll be for sale somewhere, possibly Atomic.
I had poems accepted at Hobart and a short story accepted at SFWP Quarterly. Super excited about those! They'll be linked when they arrive.
The nasty ladies at Babe Press had me read at the NASTY reading. Here's me reading poems about Bjork.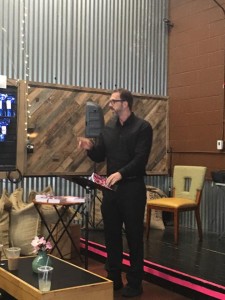 Also, the Browns hosted me, Derrick Weston Brown and Jen Michalski, last night at their Rogue Reading. I horrified everyone with Kyle MacLaughlin fanfic. You're welcome.
I will be reading at my alma mater, York College of Pennsylvania on October 25. It'll be a lot of fun. COME SEE ME!
At Mason Jar, we published a wonderful author, Dave K. for our first novel, The Bong-Ripping Brides of Count Drogado. The release is November 4 at the Ottobar. It's an intense steampunk story. Buy it, read it, love it, review it.
We're also accepting LGBTQ-themed stories of Urban Fantasy. Think about writing something and submitting.
I think that's everything. I'm looking forward to my novel going out to the big world of agents. I'm going to start by winter. Scary.
Books to look out for:
The Crossing by Cormac McCarthy
Thanks all. You're beautiful.
-mike
---