July 21, 2017
My update is a week and a half early. I'm not really an early kind of guy because I used to be the dude who didn't understand that a party starting at 9:00 pm didn't actually begin until at least 10:30. I was the dude who would show up at 9:00 on the dot and be puzzled why the hosts were kind of put out at me. This lasted until I was in my early twenties. Even now, I'll be ready to go to an event and force myself to wait a few extra minutes. It's a problem.
I'm also not a late dude because my father, um, didn't abide by lateness. He wasn't and isn't a particularly strict man in nearly any way, but God help us if we made him late. Yeah, me and my brother? We're right on time all of the time.
But not this month! This month I'm deliberately a week and a half early. But why?
Why, you ask, hypothetical reading audience? Because Tracy Dimond and I are going to race. In the pool. Swimming-like. She and I are both writers and we both swam in college (I swam for the powerhouse in swimming, York College of PA. She ran for some dippy school called "Rutgers University." Whatever.) Tracy and I have been known to talk swimming and writing and athletics and the arts in the past. It's kind of "our thing" even if neither of us are serious swimmers now.
But what does this have to do with anything? Well, we want YOU to bet on us. Who do you got? Who will triumph in the pool? Who is a better flower in this world, more full of beauty and kindness? Is it me? Than bet on me! Is it Tracy? Bet on her (don't bet on her). And by bet, we mean donate your monies to Writers in Baltimore Schools. It's an incredibly dope organization that " empowers the voices of Baltimore City students through in-school, after-school, and summer programming that builds skills in literacy and communication while creating a community of support for young writers." There's also a summer camp coming up that's pretty cool.
If I lose, I'll match all Tracy bets. If I win, Tracy will match my bets. And all money to Writers in Baltimore Schools. It's probably tax-deductible, too. EVERYONE WINS!
Here's some links:  https://www.generosity.com/education-fundraising/baltimore-young-writers-summer-studio-2017–2
When you donate, please comment on whatever social media platform you want. We'll add the names below and their bets (and trash talk, if applicable. Please include trash talk.) We will include videos and pictures. I may wear a speedo. Tracy may cry. We'll see. You may watch the event live, here. Live Friday, 630 AM. 
**Update**
The Gorgeous Artist got smote, mightily. This was not unexpected. Sometimes Goliath beats David (probably a lot). Tracy is crazy-talented and dedicated, so good job, I guess. BUT! We, together, raised like $350 for the charity. THANKS FOR BEING AMAZING!
BETS ON THE GORGEOUS ARTIST!
"someone has to bet on Michael": $15
Karen Strother (we think): $25
Chris Warman: $50 + Employer matching!
Sylvia Fischbach-Braden: $25
In more Michael Tager-centric news, I've had a couple pieces come out since last we talked. The good people at Queen Mob's Teahouse were kind enough to put out my very-NSFW poems, "The X-Men, Fucking. Poems." They're um, graphic. So read at your own peril.
Besides them, Cartridge Lit pubbed my newest piece on Sonic the Hedgehog and Castlevania.
Also, LitPub put out a review on a wonderful book by Paula Bomer, Mystery and Mortality. It's heavy nonfiction but well worth reading. Check it out!
BMoreArt will be publishing a new interview with the folks at Hey You, Come Back. I'll link when it gets here.
Nathan Leslie of the Reston Reading Series had me down to Virginia to read with some heavyweights. Thanks Nathan! He got to see me be cranky because of lack of food afterwards. EEP! Here's a picture of when I wasn't cranky: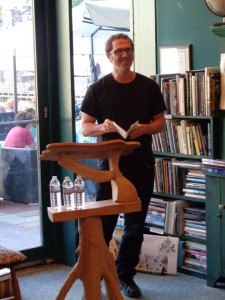 And speaking of readings, the wonderful Mandy May and Mary Adelle have invited me to read in support of their journal, NASTY, of which I am a contributor. It will be on August 15 at  Dublin Roasters Coffee. I hope to see you all out there (or at least at their reading on 7/27 at The Room).
I'll also be representing Mason Jar Press at OutWrite on August 5 with Stephen Zerance and Saida Agostini. Rea Harris will be manning the booth with me. Come say hello.
And I'll be at Writers & Words on August 8 helping Natalie Ko, Claire Dorsey, Derrick Cullen and Aditya Desai be more amazing than they already are.
Books to look out for:
the long way to a small angry planet by Becky Chambers
Massive Cleansing Fire by Dave Housley
June 1, 2017
It's June now and it's light jacket season for only a short time longer. I love light jacket season. I spent a lot of time watching Buffy the Vampire Slayer and there's one article of clothing the denizens of Sunnydale, California have a lot of, it's light jackets. From one episode to the next, it was a never-ending series of cool-looking garb that seemed unnecessary for the west coast. Of course, I was young and fully into the short-sleeves/parka dichotomy. I didn't understand the necessity and the joys of layering, how one thing isn't quite enough but the next level up doesn't make no sense neither.
Also, I didn't quite grasp that California is, like, 68 degrees the whole time. I just visited twice this past year and I was alternating between sweltering or shivering. Light jacket woulda solved that problem!
So, as a writer, I struggle with the different hats I wear. I'm a writer of fiction (novel I'm 70% finished first revision, I'm looking at you), a writer of personal essay, a writer of weird little poems. I edit for one magazine and am thinking of applying to edit at another magazine. I publish books and I interview artists. I contain multitudes. And sometimes I'm like, man, this is a bit much. Maybe I should simplify.
But really, maybe all they are is a series of light jackets. When is too hot, I take it off for a few minutes until I'm comfortable again. Then I put it back on when I'm ready, because the tree I'm sitting under is giving too much shade. And I walk around until I'm hot again and I want to put on a lighter one. Maybe that's fine.
Also, if you're running out of gift ideas, I like thrift store blazers.
I just read at the Grub Street launch at Towson University and Excuse my Dust in Philly. They were fun, though weird, because Grub Street published a lyrical short story "El Gordo" and I read that and over at Excuse My Dust, I read poems about fisting. But, tone aside, here's some pictures of me looking awkward. I'll be reading in Reston, Virginia on June 25, so come out and take your own awkward photos.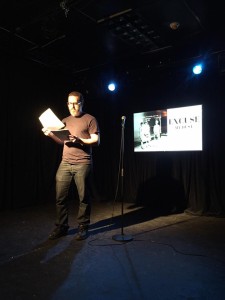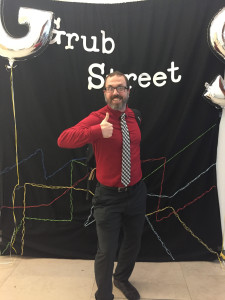 Speaking of poems and Buffy, I suckered the good folks at Barrelhouse into publishing some poems of mine written from the POV of Buffy characters for National Poetry Month.
Our most recent authors at Mason Jar Press are having a reading in support of Not Without Our Laughter on June 18 down in DC. I hope you can make it. They're real talented. I'll be there.
I have two new interviews with crazy-talented artists at BMoreArt: the Baltimore Rock Opera Society and That Other Shirt.
Speaking of interviews, I talked to the super smart Andrew Ervin about his new book Bit by Bit over at Cartridge Lit and reviewed said book for Electric Literature. It's a good book. Andrew and I are bros now.
I featured a bunch of amazing writers for one of my Retrogamer essays and wrote about Curt Schilling for the other.
My friends and colleagues Rebecca Harris and Lisa Lance took over Seltzer Open Mic, which I had been caretaker for. Go see them and read at the open mic over at Charmingtons!
Books to look out for:
Mystery and Mortality: Essays on the Sad, Short Gift of Life by Paula Bomer
Miles Away by Libby Zay
April 1, 2017
Hi y'all! I've had a busy, busy few months. It reminded me of that time where I was busy for three years in my mid-20s and a lot happened and I definitely almost went to the emergency room. See, I went to visit some friends in Connecticut, which was three hours away from me in Manchester, NH. And on my way out, I saw my inhaler sitting there and was like, "I should take that. But it's so far away, like past the coffee table," so I skipped it. Well, after going to sleep around 2 in the morning, I woke up an hour later with the worst asthma attack I'd ever had. And my friends told me to go to the ER, but because I was in Americorps I definitely had insurance but because I'm me, I didn't know what it was or where my insurance card was. Or have any information about it. And I was so nervous about that that I decided to drive home in the middle of an asthma attack for 3 hours. I've never forgotten that story because it was the worst 3 hours of my life. All because I was too busy to walk three steps and grab my inhaler.
Anyway, I've been busy enough that I haven't had time to publicize stuff like I should. So, as recompense, I'm going to do like a kind of a regular update, where I'll link stuff that's come out, events that are neat, maybe some cool stuff that's happened. I'll post this bi-monthly or so, because a regular blogger I am not.
Mason Jar Press is having a big book party on 4/19 at Enoch Pratt. You should definitely come and tell your friends. Buy some books.
If you can't make that, we're also having book releases in DC (June) and Baltimore (May) for Not Without Our Laughter by the Black Ladies Brunch Collective. Get on it!
Retrogamer columns for February and March are up. They're quite good.
My interview series with amazing local artists for BMoreArt started with a bang. Check all three out here.
A story about time travel and dinosaurs got published in a book, not coincidentally titled D is for Dinosaurs. The Ebook is free, I think, but the print book is also dope.
I've stepped away from The Avenue as Editor in Chief. Don't worry, all is well and happy. Submit/read in good faith.
Writers & Words did our first writer's retreat and it was exceptional! Pictures and testimonials (and t-shirts!) are coming soon. In the meantime, we're doing another in November, so apply!
Books to look out for/ I'm reading and am recommending:
Magic for Unlucky Girls by AA Balaskovits
Karl Marx Imperial Dispensary and Himalayan Tea Garden by Sylvia Fischbach-Braden
Thanks for reading all of that. Let me know if you want to get tea.
---